Archive ESL Europe Europe World of Tanks
Go4WoT has a golden lining part 2!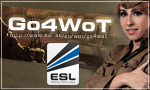 Commanders, we have great news for you! Go4WoT has a golden lining part 2! In the past, you could win prize money and 196.000 Gold every Sunday! Now, you can win 406.000 Gold every Sunday and 1.400 €! From Go4WoT #68 the places 9-64 will be rewarded with great gold prizes.
Read the following news to find out how much you can win and how you can claim your prize.
Win 1.400 € and 406.000 every Sunday
Place
Sunday
1st
€400
+ 100 Points
2nd
€250
+ 75 Points
3rd
€200
+ 60 Points
4th
€150
+ 40 Points
5-8th
€100
+ 25 Points
9-16th
12.500
+ 10 Points (7x 1.750 )
17-32nd
8.750
+ 5 Points (7x 1.250 )
33-64nd
5.250
+ 3 Points (7x 750 )
Total prizes:
1.400 €
and
406.000
How to claim your prize
If your team is one of the lucky winners, you have to claim your gold via
support ticket
.
Only this way you will be able to receive your gold.
The support ticket must contain
the gameaccounts of the seven players
who played at least one match. Only a total of 7 players can get gold. It is not able to split the gold to more players.
How should your support ticket look like? Here's an example!
It's important that you don´t change the Section. If you change this, there's a small chance that we won't get your Support Ticket.

Subject will be the tournament.

If you play a Team tournament, you have to select your Team.


Example Support Ticket:

Section: Europe World of Tanks Gold Request
Subject: Gold for Go4WoT #XY
Team (optional): Select your Cup Team

Hi Admin Team,

Here is the list of the players who receive gold.

Here are the Gameaccounts (WoT EU Nickname):

Maxporwer, N00b, john, robby, richard, gerry, tigerman,

Thanks,
Team Leader


Claim your Gold - Deadline
After the Cup, you have to write your Support Ticket to claim your Gold until Wednesday 20:00 CET of the next week. If you don´t do that in this time, it is to late to request you gold for this Cup.






Follow us!
Follow us on twitter and always stay up to date. You can find teases for upcoming events or just stay tuned what happens around the World of Tanks!
Follow @sne91
If you have any problems or questions, feel free to ask!

Best regards
Your


Admin Team
Venom
, Wednesday, 29/08/12 11:52


Information:
info write comment not allowed