Go4WoT Cup #84 - €1400 every week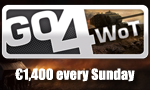 Go4WoT Cup #84 is going to be played on Sunday, the 02nd of December. You have the chance of winning €400 and a lot of gold in the ESL's most amazing cup series. You don't have to qualify to participate for the weekly cups! Simply find 6 friends or teammates, create an ESL team and you have the chance of winning from €100 to €400 and a lot of gold! Next to the weekly €1,400 and 406.000 gold prize purse you can also collect points to qualify for the monthly finals where you can win €1,750! So sign up now and don't miss it!
How Go4WoT works
Weekly cup every Sunday
Top 8 teams earn points for the monthly ranking
Weekly prize purse: €1,400 + 406.000
Top 8 teams of each month qualify for the monthly final
Monthly finals prize purse: €1,750
Cup Overview

Date:
02.12.2012

Modus:
7on7
Single Elimination
Best of 1
Semifinals + Finals: best of 3
Timelimit: 10 minutes
Prizes:
Place
Sunday
1st
€400
+ 100 Points
2nd
€250
+ 75 Points
3rd
€200
+ 60 Points
4th
€150
+ 40 Points
5-8th
€100
+ 25 Points
9-16th
12.500
+ 10 Points (7x 1.750 )
17-32nd
8.750
+ 5 Points (7x 1.250 )
33-64nd
5.250
+ 3 Points (7x 750 )

Restrictions:
Entered World of Tanks Gameaccount(in-game nick)

Sign Up:
NOW
Claim your Gold - Deadline
After the Cup, you have to write your Support Ticket to claim your Gold until Wednesday 20:00 CET of the next week. If you don´t do that in this time, it is to late to request you gold for this Cup.
Last weeks winners - Go4WoT Cup 82
Congratulation, Lemming Train!
Check-In System
In this Cup we'll use the ESL "Check-In System". If you don't know how it works, here's a short explication.
Step 1 - Reservation (green)
Here you can reserve you place in this cup, but you have to affirm your participation later.


Step 2 - Affirmation (yellow)
30 minutes before the cup starts, you have to affirm your participation, if you have done that, you're in the Cup.
Step 3 - Entry (red)
You didn't get a free place in this cup? If there are not enough participants, you can still enter the cup 20 minutes before it starts!
Follow us on Facebook & Twitter!
If you have any problems or questions, feel free to ask!
Venom
, Friday, 30/11/12 06:23

No comments yet.

Information:
info write comment not allowed