Mousesports to replace BeT in Season XIII Finals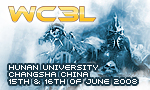 Some of you might have expected that, after

Beijing eSports Team
suffered from the departures of their key players, they would withdraw from the WC3L Season XIII Playoffs. Today, we can officially announce that another team will replace
BeT
for the Offline Playoffs.
Read
more
for detailed information.
This is what

BeT.Erica.
had to say about that situation:
"BET had a very good score and finally got a Final ticket. But we are reconstructing the team right now so after a meeting with the team and the management we made the decision that it would be better to step off of WC3L Finals.
We hope to meet you next season and may all teams have good luck in this WC3L final game!"
At the same time, we can gladly announce the successor for the upcoming finals:

Mousesports
was invited to participate in the offline finals. After losing the
5th Place Decider Match
against
wicked
, their vanquishers could not manage to step in. So the originally 6th placed team will now participate in the WC3L Season XIII Finals.

wicked.chico'ICY
explains their resignation:
"When we heard about BeT's declining we were happy to step in for them. But unfortunately the announcement reached us quite late and we were already in the middle of reconstructing our WC3-team (similar to BeT). The team and the players could not come to a new mutual agreement, thus we are parting ways. WICKED will not pay the costs for the team's participation in the WC3L Finals.

We forwarded this information to the WC3L staff with the consequence that WICKED will not paricipate in the WC3L finals. The admins then decided to give the ticket to the finals to Mousesports. We wish all participants lots of fun in China and and want to close this statement with the promise that WC3 will stay a part of WICKED. Stay tuned!"
Obviously,

mouz.Django
is quite grateful:
"We are glad to have the oppportunity in participating at this season's WC3L Finals. Although we cannot attend with our full lineup due to visa issues as well as other important qualifiers we will try hard to surprise and give our best!"
This leaves us with the following teams participating in the
WC3L Season XIII Offline Finals in Changsha
:


SK Gaming vs. MeetYourMakers

World Elite vs. Mousesports

Jupe
, Wednesday, 04/06/08 15:46

No comments yet.

Information:
info write comment not allowed