WC3L Season 10
King of the Hill #27: HoT vs. Fire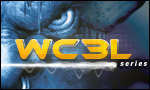 Reigning King of the Hill Mykhaylo 'HoT' Novopashyn has a problem: Too many people that want to steal his title and end his reign once and for all. This time things are even worse as one of his clanmates dares to challenge him.
The battle will take place on Wednesday at 8pm and will be covered by GIGA.
SK.HoT
vs.
SK.Fire_de 3:0, Wednesday 8pm CET
Replays:
Game 1
-
Game 2
-
Game 3
One Man. One desire. One Fight. Who shall prevail? (4K.Zeus)

Reigning monarch: King

SK.HoT
King SK.HoT the first was able to slay his predecessor 4K-ToD with a 3:0 after a hard battle. In his short reign he has shown great wisdom and dedication. His Night Elf army seems to be highly motivated to destroy the vain Humans and the King surely knows how to command his army in an effective way.
For King and Country!
Regicide in disguise: Grand Duke

SK.Fire_de
Grand Duke SK.Fire_de is on a win streak when it comes down to warfare. He has perfected the use of towers in his battles. His aggressive and effective strategies have often turned battles in his favour.
May the towers be with you!
Broadcast
---
Doso
, Wednesday, 07/02/07 10:55

No comments yet.

Information:
info write comment not allowed