Archive ESL Europe Europe Unreal Tournament 2004
Summer Event of 2013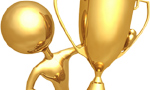 Summer have always been about enjoying the well deserved holiday, traveling to new and exciting places but for the most to rest. In regard to this let me announce the 1on1 Summer Event for 2013, the Most Matches Competition for this Summer!

Q:
What is the Most Matches Competition ? How does it works ?
A:
In the MMC, final ranking is based on the amount of Matches you played instead of the usual W/L ratio.
Q:
How do I participate ?
A:
Simply press the "Play" button on the menu !
Q:
Where can I find my opponents ?
A:
You can directly challenge your opponents and send them WebMsg's on their profile. However we strongly recommend use IRC(#esl.ut) to speed up the progress.
From as of this moment anyone with a registered ut2004_gameaccount are able to sign up. Each sign up is verified by your admin team and from the moment you "pass", you can start
challenging
your opponents.

The Event Ends on September 29. Sunday, 20:00 CET. Winners will be announced the following day and their efforts shall be archived in the "Hall of Fame"!
Important changes
The Ladder rules have been updated, read it carefully to avoid any discomforting circumstances.
Hall Of Fame have been recently added. Take a look and see those who fought before you!
//Your
Admin team
Gabi
, Thursday, 11/07/13 04:57

No comments yet.

Information:
info write comment not allowed