Archive ESL Europe Europe Unreal Tournament 2004
1on1 Summer League 2011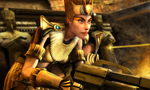 Are you looking for some entertainment? Yet again None 1on1 cup to the Summer? Search no more! ESL presents your Summer League where you can spend your free-time with your favourite game during the Summer! Also don't forget that Wire Anti-Cheat is mandatory for all players to use for the full duration of all matches without exception. If someone cannot use Wire then he/she are not allowed to take part in as from now on.
Server Setting
The
1on1 Summer League 2011
follows the standard 1on1 server settings, click
HERE if you need guidance
and/or ask an Admin.