Archive ESL Europe Europe Unreal Tournament 2004
1on1 TOTALUNREAL - EuroCup: Winners!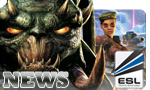 I'm proud to announce the winners of UT2004 1on1 TOTALUNREAL EuroCup that comes to an End! The event was based on a agreement between TotalGaming Kft. & ESL - Europe, see the details inside!
Winners
| | | |
| --- | --- | --- |
| | GoHLinK | |
| | _________________ | SBS- |
| Nautilus | _________________ | _________________ |
| _________________ | _________________ | _________________ |
| | | |
Prizes
1st place
€50 and 3 Month ESL Membership

2nd place
€30 and 2 Month ESL Membership

3rd place
€20 and 1 Month ESL Membership

Rankings


Information
The prizes will be sent out in the upcoming days / weeks based on how fast we can collect the information from the winners about how they are able to receive it.
Special Thanks
I would like to grab the chance to congrats the winners and all of the participants who took part in and fought FOR and IN the cup. Hope to see you guys again in the future!
Also we would like to say thanks to the ESL since they provided the heart of the event, the cup system and page that created this cup!
Media Files
All of the demos and screenshots will be available in 'all_in' as a download to those who missed some of the matches or wish to re-watch some of it again.
End
Congratulate to the winners from TOTALGAMING & ESL-Europe!
PLAY GAMES!
* * *
#totalgaming.hu
#esl.ut
Gabi
, Sunday, 22/08/10 15:12


Information:
info write comment not allowed