2on2 Team DeathMatch May Cup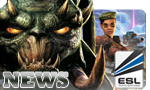 The Unreal Tournament 2004 ESL Section propose a 2on2 Team Deathmatch Cup.
The Tourney is based on Double Elimination Bracket up to 32 teams!* Starts on 19/05/2010.
Tourney System
Double elimination Bracket
First matchweek 15/05/2010
One match per week, you can schedule your match whenever you want.
If you can't agree with your enemy, default date is Sunday, 20:00CET
Match mode
Best of 3; Most-frags choose the third map.
If the total frags equals at 1-1 the 3rd map is forced by admin coin flip
During the Cup you are NOT allowed to pick a map more than once / match
Matchmedia
There have to be at least the following files :Screenshots after each map from both players are mandatory so as Demos.
All have to be uploaded after the match (24h of time)
If there are missing screenshots/demos, it will be punished with 1 penalty points and in some cases with a default loss.
Informations
Requirements

ESL Website account -> Create
ut2004 Game account -> add
ESL Team -> add
IRC o MSN contact in your profile
ESL Registred Team with least 2 player


Match Setting

Slot: up to 32 Team
Tourney Structure: Double elimination
Game Mode: Team DeathMatch 2 vs 2
Match Type: Best of 3
Timelimit: 20mins
Movable Match: Yes, 6 Days after
Seedings: Random


Mappool

DM-Akbal2k4-SE
DM-Campgrounds2004-G1E
DM-1on1-Roughinery-FE
DM-Goose2k4
DM-Antalus
DM-Rankin-FE

Links

Tournament Structure
League Info and Rules
Members

Server Setting
ESL 2on2 Team DeathMatch May Cup
follow the standard TDM server setting, click
HERE to show Setting.