Archive ESL Europe Europe Unreal Tournament 2004
TOTALUNREAL - EuroCup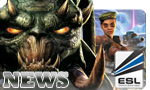 Some days ago we informed you about the changes in the UT2004 section. Additionally we told you that there will be a nice surprise some day soon. The day has come! More about this cup you can read in this news!
We are proudly announce that ESL & TOTALUNREAL brings you a money prize eurocup with €100 as for the start and as always, Premium membership also granted to the winners!
Important: ESL only provide the engine for this cup everything else (e.g: Rules, prize money, etc.) depends on TOTALUNREAL as they are the sponsor of this event!
Details?
UT2004 TOTALUNREAL EuroCup

Slots
up to 128 players
Cup type
group stage and playoffs (1on1)
Ruleset
All about the settings you will find here
Mappool
DM-Rankin-FE
DM-DE-Ironic-FE
DM-1on1-Lea_ESWC2k5-SE
DM-1on1-Roughinery-FE
DM-1on1-Backspace-FE
DM-1on1-Aerowalk
Rounds
Group-stage
PlayOffs

Schedule
Signup open until, 28 Feb 23:59 CET
Cup start on, 1 Mar 00:00 CET
Prizes
1st place
€50 and 3 Month ESL Membership

2nd place
€30 and 2 Month ESL Membership

3rd place
€20 and 1 Month ESL Membership



Need a server?
First of all this is a European cup which means only .eu servers are allowed to use however non EU players are still able to sign up but only without the ping-table privilege and other settings like netcode.
Those who worry about not having an own server to the matches: TOTALUNREAL will support this event with a Cup server that located in Germany. Since it's in the center of Europe with a good bandwidth, it's should be fine for most of the players.
Contact?
The most important thing is the availability which means anyone who would like to take part in must be available on IRC to prevent contact issues.
This means the obligatory presence on the following channels:
#esl.ut
and
#totalunreal.hu
Not familiar with IRC? Use the
Webchat
For situations not covered, the Admin team will consult it and together they will make decisions in the interests of justice. Just write a
support ticket
.
Your
Admin Team
852663
, Tuesday, 09/02/10 10:59


Information:
info write comment not allowed