The game is no longer available in Europe. If you want to play the game in the ESL, please open a topic
here
.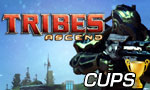 0
Think you are the best at Tribes? Want to put your money where your mouth is and make a little on the side?

Presenting the Wilderzone Wager Cup!, the first cup where you put your cash on the line and
29/03/13

Results of the european T:A Winter Cup
0
15/01/13

***UPDATE*** Tribes:Ascend Winter Cup
0
20/12/12

A news full of winners!
0

More News