Archive ESL Europe Europe TrackMania 2
New Canyon mappack released!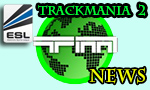 Some weeks ago
we asked you
to make us new maps to be used in cups. We've recieved quite a lot of them for the Canyon Speedtech and we are ready to release the second 2013 Canyon mappack.
The new mappack
Out of all submissions, we've decided to use the following maps to replace the old mappack (ESL - Sunlight, ESL - Strange Way, ESL - Kryptonite) in the upcoming cups in our Canyon section:

You can check the maps on ManiaExchange, by clicking on the images.


We want to thank everyone for sending in their maps, and we hope to get your support again next time, when we'll be looking for maps again! If you don't mind waiting a bit longer, feel free to send in your maps anytime... Than it will be easier for us to switch mappacks when we feel like it.
We are still looking for Stadium maps!
Currently we are still looking for maps we can use in our Stadium cups. The maps we are looking for, are: Stadium Techmini's and Stadium FullSpeed maps. For the requirements on those maps and other information, please check the
corresponding news
.
Stay informed!
Your


Admin Team
TheM
, Friday, 26/04/13 20:06


Information:
info write comment not allowed