Archive ESL Europe Europe TrackMania Nations Forever
Preparatory Cups 2008/2009 #2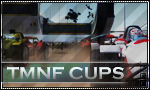 The next preparatory cup is on it's way. It's taking place on 7th/8th March 2009. You can find the links for the map pack and all the other information you need here in this news.
Last ESWC Season the Preparatory Cups were developed to prepare you to all ESWC Competitions of the Season. This year we are trying this kind of experiment again and after the first preparatory cup, we now launch the second one. The map pack for March/April is out for some time, now it's your turn - sign up to it, the check in is activated! We hope for a high number of participants, so check in right now!
Trackmania Nations Forever
Preparatory Cups
TMNF

Preparatory Cup 2008/2009 #2
Mode:
1on1on1on1 rounds
Cupsize:
64 slot Single Elimination
Match Mode:
All 5 maps per round - They will get driven in cup mode 5 rounds/challenge and pointlimit 100.
Mappool:
ESWC2009_March
(5 Maps)
Server Settings
Game Name: user-defined (we recommend to use something like: "ESL group x")
Game Mode: Cup
Max Players: 4
Comment: user-defined
Ladder Limit Min: 0.0
Ladder Limit Max: 50000
Password: user-defined (but we advise to have one)
Max Spectators: user-defined (You have to arrange a number with your opponent)
Password Spectator: user-defined (but we recommend to have one)
Ladder Mode: Forced
Point Limit: 100
Rounds per challenge: 5
Number of winner: 3
Warm-up phase duration: 1
Allow track download: enabled
Callvote Threshold: 51%
Callvote Timeout: 1:00
Chat Time: 0:10.00
Accept referees: disabled
Structure and times:


64 Slots (may be adapted to the number of contestants)
best 2 will get through a round
Check in: Saturday 7th of March 14:30 CET all participants got to be in our IRC channel #esl.tm @ Quakenet. *check-in link*
1st round: 16 groups à 4 players 15:00 CET
2nd round: 8 groups à 4 players 16:00 CET
Sunday 8th of March 16:30 #CET all participants got to be in our IRC channel esl.tm @ Quakenet.
Quarter Finals: 4 groups à 4 players 17:00 CET
Semi Finals: 2 group à 4 players 18:00 CET
Finals: 1 group à 4 players 19:00 CET
Check-In-System
In this Cup we use the Check-In system to prove that people who join also participate in the cup. And we can allow people in the last minute to join, if not enough players confirm their registration!
It actually looks a lot more complicated than it is. Basically 96 players can sign in for this cup but only 64 players are able to participate.
Phase 1 - Reservation (Green)
Just like you're used to. Sign up if you're interested in playing.
Phase 2 - Confirmation (Yellow)
This takes place
30 minutes before the cup starts
. Everybody with a reserved slot from Phase 1 is now able to confirm parcitipation in the cup. Beware: you only have
10 minutes
for this.
Phase 3 - Signup (Red)
Didn't get a slot in Phase 1? Now all the non-confirmed slots from Phase 2 are ready to be taken by the first ones who sign in.
Thats's not as diffult as it actually sounds, is it? See you guys in the cup!
---
--->>Signup<<---
---
You want to know, how to manage matches and how to enter results?
Take a look at this link!

We wish you a lot of fun and good luck in our Preparatory Cups this year!
Yours
ESL

TMNF Elite Admins!
Luegge
, Wednesday, 04/03/09 14:28


Information:
info write comment not allowed