Archive ESL Europe Europe TrackMania Nations Forever
New Section: Fun Fun FUN!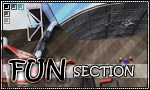 Over the last months we did some improvements for all the serious competition drivers. In the last 2 months we also added Speed Ladder and Cups and even announced a Premiership. Now it's Fun time! Look up in this news what this is all about.
Hello all Fun Gamers!
You want to have some fun in the ESL? You thought until now that ESL is too hard for you? You like Short maps, Nadeo maps and Dirt tracks?
Then
you are totally correct here! Maybe you are new and need to know more about the ESL page, like "how to create an account" or "how to arrange a match". Therefore we have a
Beginners Guide
. Read it carefully! After that you will be able to play in this league.
The Fun Section
The Fun Section consists of more than one track pack. The goal in this section is to make those, who are no Pro Gamers, happy. Not because they win, but because they have fun with the tracks they play and because they can play the tracks they want to. Every player have a different view at "Fun", what's the reason why we will add several maps in this section. At the moment we are planning the following:
Short Maps
Nadeo Standart Tracks
Dirt Tracks
Of course we are pleased to hear your opinions about that. Maybe you want to suggest some new track packs aswell?
The new TMNF Fun Board
is the correct place for you to post. Of course you can post your feedback about this section in the news comments aswell.
Short Maps
We will start this Section with the Short Maps map pack. Here the chosen ones for the first Fun - Short map pack:
>> Download ESL Short Map Pack <<
The maps will be added first of all at the:
TMNF

1on1 Quick Race Ladder
Signup
TMNF

1on1 Timeattack Ladder
Signup
All open matches are played on the old maps. The track pack will be added now.
We wish you a lot of fun with this maps!
Yours
ESL

TMNF Elite Admins!


Information:
info write comment not allowed