Archive ESL Europe Europe TrackMania Nations Forever
2on2 Speed Winter Cup finished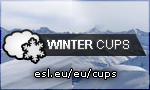 Yesterday the final between Men of Speed and WildMotherFuckers took place and the winner is known. Check out the news to see the result.
Top 3
Gratulations to

Men of Speed
for winning this cup. GG WP!
Prizes for Winners
ESL Premium Account


1st Place:

2*3 Months


2nd Place:

2*2 Months


3rd Place:

2*1 Months


Cup Winner:

Special Winter Award
The prizes will be handed out via pm to the team captain!
2on2 Speed Winter Cup
I want to say thanks to all teams and players who participated. It was a pleasure to host this cup for you.
Also I want to thank all people who sent in their maps making this cup possible. In total we got 21 maps with 18mappers involved. 15 maps were used, divided in 5 mappacks.
Of course I'm happy about every
constructive
feedback and will take it in consideration the next time. Tell me what you liked or what you disliked.
Stay informed!
//Your


Admin team
smog
, Sunday, 20/04/14 07:07

No comments yet.

Information:
info write comment not allowed