Competition admins wanted!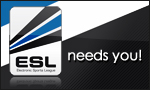 Trackmania Nations Forever - Admin Team is recruiting new admins. Of course you need to fulfil some requirements to become a trial.
Your job as an ESL-Admin is on a voluntary basis and you will not get any financial reward for it. Beside this we are offering you next to working with a nice and motivated team the possibility to fashion your hobby with your performance.
ESL TMNF EU needs you!
We need help to move along with the TMNF here. As you know, we are near the aniversary 10th edition of our beloved Competition Premiership series.
What tasks you should work on here?
Organising Competition tournaments, schedules
Writing news
Maps (defining, getting, testing, choosing)
Being in contact with the teams/players
Working on support and protest tickets
Planning cups, nightcups, being there as admin and giving support
Giving your own ideas, working and realizing them
Making TMNF the best place for players
Working in/with our team


What are the main things what ESL is expecting from you?
Proficient language skills. (english)
Experience with your game .
Certain knowledge of the rules in the ESL.
Neutrality and objectivity.
Sense of responsibility , reliability and flexibility.
Teamspirit and conflict management.
Calm conduct.


Submit your application!
What are we expecting in your application?
Written in proper English
Describing your experiences in detail (!)
Convincing application, good commitment


Your
ESL


TMNF Admin Team
Rasque
, Monday, 22/10/12 20:39


Information:
info write comment not allowed