ESL Dirt - Maps Wanted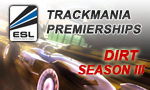 ESL Dirt comes back in 2013 with a new season of Dirt Premiership! Thus we need the Dirt community and especially mappers. These maps will be used for the DPS3, on other cups and on the 1on1 Dirt Rounds Ladder. The registration for the Dirt Premiership 3 will be open soon with other announcements.
What are the requirements for your Tracks?
Dirt Maps:




name: "ESL-'name'" use what you want for "name"

no special signs in the name
length: 55 - 65 seconds

make them ridable for every cam

use of ESL Signs(NOTE: use them via 'add URL' when choosing ads. find the URLs in the loc files)

the tracks are not uploaded anywhere

Blockmixing is allowed, if it does not produce graphical glitches or driving bugs

try stick to the daylight moods (morning, day)

GPS is allowed, but only with a fake finish

Intros & Outros are forbidden
the scenery is up to you (make sure it doesn't produce lags, lighting problems or graphical bugs!)

the tracks were not used in any competition before
the tracks are just known by yourself





Send the maps,
together with a replay
, to the following E-Mail address:
[email protected]
Please use the following style for your mail subject.
"Maps - Dirt - *your nickname*", else your E-Mail may be missed.
Stay informed!
Your
ESL


TMNF Admin Team


Information:
info write comment not allowed