Archive ESL Europe Europe TrackMania 2: Stadium
RPG Nightcup #10 - Win 25€!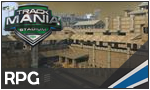 It´s time for the 10th Edition of the RPG Nightcup! The Cup will be held on Saturday the 15th November on the first half of VKLF´s map 'C.R.A.T.E.R'.
To celebrate the 10th Edition, we´ve got a prize of 25€ for the winner, sponsored by iGn|Zomby!
RPG Nightcup #10
The mode will be the same as always; we start with 30 minutes Time Attack and the best 50% will drive against each other in knockout! In the knockout the last 2 players will get kicked out each round until we reach TOP 4 or 5, there the last player will get knocked out each round.
Stadium Nightcup #10 - RPG
Signup now!


Saturday 15th November
Sign up until: 19:30 CET
Start: 20:00 CET
Size: Unlimited
Structure: All vs. All
Serverinformation will be sent to all participants after the sign-up is closed!
Prize
25€ for the first place.

Thanks to iGn|Zomby for donating the money to this Cup!
Important info
In order to take part in this Nightcup, you have to install the
Trackmania 2 RPG Title Pack
!
Start up your game

Type in the Maniaplanet browser: TrackManiaRPG

Click on download

If the download is done, you have to add it to one of your empty stations (click on an empty station, add new game, choose TrackmaniaRPG)
Stay informed!
Your


Admin Team
Mario
, Tuesday, 04/11/14 18:04

No comments yet.

Information:
info write comment not allowed