Archive ESL Europe Europe TrackMania 2: Stadium
Road to the GA: Go4TrackMania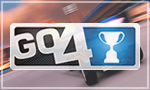 After the presence of TrackMania at the Electronic Sports World Cup occuring at the Parc des Expositions of Paris, Nadeo announced several tournaments at the Gamers Assembly of Poitiers in April 2015 and several online tournaments on the famous competition platform of the ESL.
Road to the Gamers Assembly
The Gamers Assembly is at the heart of eSports in France. Therefore it is a privilege for the TrackMania community to meet in that place. Being the only racing game on the 2014 edition, TrackMania has offered the occasion to meet a lot of players in very high quality tournaments and a very good ambiance. With four TrackMania tournaments planned this year, Nadeo hopes that the players will find a competitive experience stronger than before.
The four tournaments are on TrackMania² Stadium (Tech and Dirt), TrackMania² Canyon and TrackMania² Valley. All the tournaments will be in a 1vs1vs1vs1 bracket.
Until the Gamers Assembly, the TrackMania² Stadium multiplayer will be freely available. This demo can be downloaded from the
official website
and from
Steam
.
More information can be found in the official blogpost.
Go4TrackMania
On the road to the Gamers Assembly in April 2015, we'll be organizing a Go4TrackMania in
December 2014, January and February 2015
. This Go4 series is a 1on1 Cup Series, each month is a seperated series. Every Sunday will have a weekly cup and each series will be finalized with a monthly final.
A more detailed announcement will be released in the second half of November, so stay tuned for more information.
Stay informed!
Your


Admin Team
TheM
, Friday, 24/10/14 12:29


Information:
info write comment not allowed