Archive ESL Europe Europe TrackMania 2: Stadium
MX BotM Speed Cup - June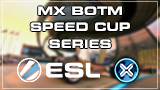 It is almost the middle of this sunny time of the year and it is about time to announce another edition for this series. Now it's time for June and... hugs?!
More on that just below.
Best of the Month
Our newest concept is to push the best FullSpeed tracks of each month, selected by the admins of ESL. The reason of the method is to prevent different tracks to get fake-awarded, and also, to present some authors who really deserve their maps to be played here.
June
As if the recent performance by winter was not enough, this month we had another builder who has outdone himself. A big shout-out to DrHugs! 6 out of 14 maps we gave a try this time were built by him (one of which - in a duo). Of course, as we want to promote as much builders as possible, we picked only the one we liked the most and other 4 from other contributions. Do not forget to check the creations by
DrHugs
and here is the complete list for this month:
Psychotic - by owl & drhugs
Dehumidifier - by rex.racer
Chua. - by CyanSurfer
.Playing with Fire~ - by NLpwf
speed-dial lock - by coshank
Trackmania 2 Stadium MX BotM Speed Cup - June 2014

Date: Saturday, 19th July 2014 at 18:00 CEST


Mode: 1st phase: Time attack 2x6 minutes each track, 2nd phase: cupmode (for rules see below)


Links: Settings, Global Rules


Support: On the gameserver


Restrictions: valid Maniaplanet ID (TM2) login entered


Signup:
Deadline: Saturday, 19th July 2014 at 12:00 CEST
Cup rules

The rankings of the Time Attack will be calculated with Xaseco ranks

The best 4 players will advance to the Final

Each finalist will pick a map from the pool (at least 3 maps has to be chosen so two players may pick the same map)

The Final uses Cupmode, Pointlimit: 80, 3 rounds per map, Rankings: 10/6/4/3, 1 warmup

The cupserver will be password-protected. E-mails will be sent to the contestants with the password after registration deadline
Join the cup server!
Hosted by cyber-server.hu
Stay informed!
Your


Admin Team
Kem
, Sunday, 13/07/14 15:55

No comments yet.

Information:
info write comment not allowed