Archive ESL Europe Europe TrackMania 2: Stadium
1on1 Nascar Championship Divisions + first mappack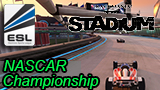 Let's GO ! The first edition of the nascar championship is starting. The divisions are finished and the maps selected. We wish all participants good luck and have fun :)
1st Division
2nd Division
3rd Division
4th Division
5th Division
Good Luck And Have Fun!!
Mappack 1
Server settings
Game Mode: Teams
Max Players: 2
Point Limit: 5
Alternate Rules: enabled
NO respawn!

ESL | Nascar Public Train Server
Add Favourite
Join as player
Join as spectator
Relegation system
The best and worst player of each division will directly change the divisions without having the chance to drive a relegation match. Place 2 of each division has the chance to earn a place in a higher division by winning a match against place 7 of the next higher division.
For division 5 a and b we will use a specil system. When all playdays are over place 1 of both division will play against each other. The winner will directly get a spot in division 4 and the looser has to play the relegation match against place 7 of division 4.
Nascar Championship #1: Info & FAQ
Start:
16th February
. The matches are to be played on every sunday. You can move the dates 3 days backwards and 3 days afterwards.
Each map has to be played until 5 points in Team modus. At the end the total amount of round wins count.
What shall I do, if...
Q:
...I don't have time at the default matchdate?
A:
You can agree with your opponents on moving the matchdate. This new date can be 3 days before, or 3 days after your default. A clear agreement should be there in the comments, or in a protest ticket. Should a match miss this agreement, the consequences will be judged upon the available facts by a responsible admin.
Q:
...my opponent did not show up on the match?
A:
We kindly ask you to open a protest ticket at first. If your match won't be played until the deadline (in 3 days), the usual punishments will be given.
DO NOT SET NOSHOW!
Q:
...my opponent has been disconnected from the match?
A:
You have to wait ten (10) minutes. If the player doesn't come back within the told timerange, you can replace him/her with another player.
Stay informed!
Your


Admin Team


Information:
info write comment not allowed