Archive ESL Europe Europe TrackMania 2: Stadium Country Championship 2014
Country Championship 2014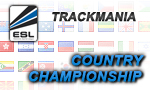 The league which connects the different players, bringing them together for being the world champion of all nations, is here again! This time, we are back with Country Championship on Trackmania 2:Stadium.
Season 2014
Last year we had to still do the tourney in

Nations Forever, because there were issues, which could have make unfortunate affects on the gameplay. However, this year we are expecting many registrations for the first edition of the Country Championship, happening in TM2:Stadium.
You can browse the history of the previous editions here:
Season 2010 - Season 2013
What will change this time?
Literally: nothing! The matches are played in 4on4 format, on 3 different styled maps.
Only exception is the game and some minor things in the rulebook, which will be released later on.
Requirements and Conditions
There are some special rules and conditions, as well as restrictions, for you as a team in order to be accepted as an official national team and to be able to participate in the Country Championship.

Only new team accounts will be accepted as we are on a new game

The team accounts will be checked before you are allowed to start building your team
Conditions are the following ones:
Name
» Country .TM2S
Teamsize
» 5 to 20 players
Team Conditions
» All players must be citizens of the country they're playing for*
» Not more than 50% from a single ESL team**
* If a player can prove his nationality, he can play from outside of his country
** Also valid for the past 6 Months of clan history (even outside ESL). Exceptions can be made for smaller countries
Admin staff reserves the right to accept or to reject a team, if the team does not follow the conditions mentioned above.
We are waiting for Team Captains
As for every Country Championship here in ESL, a person from each participating nation should take the responsibility and be the captain of his national team.
Do you want to become the Team Captain of your Country?
You have to contact us by creating a support ticket. Before you do that, please read how your application should look like:
Title: Team Captain application *NAME OF COUNTRY*


Your name
Your age
Some information about yourself
What are your qualifications for the job of the team manager?
Why, of all people, should you be the one becoming team manager? Why do you think you are the right person for this job?
A list of players who are already ready to play for your country


Requirements for Team Captains

At least 16 years old

Clean ESL history

No flamer, no penalty points for offense(s)
Please note that all players, including the team captain, have to be residents of the country/region they would like to represent and in addition they have to have valid citizenship which the ESL reserves to approve by requesting personal ID card copies at any time, if needed inasmuch as fiddle might be in prospect.
Prizes
The three winning teams will receive a special ESL award, some Premium prizes for their success:
ESL Premium & Awards
| | |
| --- | --- |
| 1st | 4x3 Months ESL Premium |
| 2nd | 4x2 Months ESL Premium |
| 3rd | 4x1 Months ESL Premium |
Streaming restrictions
Do you want to cover our tournament? Read this news and apply for this opportunity. Here you will find all infos and restrictions about making coverage for Country Championship 2014.
With becoming an official streamer, your gfx and a link will be added to our CPS-related news.
Restrictions:


preferred stream: twitch.tv
you can make a coverage in any language
you can host a server (teams must agree)
any number of streams are allowed for any languages
you should respect the other streamers right to stream
your program ought to be known at least one playday before for making a good schedule for your watchers
Interested?

Then just write us a support ticket and we will consider your coverage with adding it to our news.

Thank you all for a possible application!
Fullspeed Maps Wanted
As we are going to have maps from CPS and DPS seasons, we will still need fullspeed maps for this tournament.
See below the requirements:
Stadium fullspeed maps:


name: "ESL-'name'" use what you want for "name"
track name: using player or team names or anything related is forbidden
no special signs in the name

length: 40-55 seconds
Make it ridable for every cam
use of ESL Signs
the tracks are not uploaded anywhere
Blockmixing is allowed, if it does not produce graphical glitches or driving bugs
checkpoints must be placed in their normal direction
use new blocks
use any mood you want, but watch out for shadows and dark paths
GPS can be there but not on the start block
intros and outros are forbidden
give it a delicate and nice outlook
the scenery is up to you (make sure it doesn't produce lags, lighting problems or graphical bugs!)
the tracks were not used in any competition before
the tracks are only known by yourself
Send the maps, together with a replay, to the following E-Mail address:


eu.tm2.maps@staff.esl.eu

Please use the following style for your mail subject.
"Maps - CC - *your nickname*", else your E-Mail may be missed.
The deadline for submitting your map(s) is: 03/05/14
Schedule

Registration deadline: 3rd May
Divisions & Rulebook: 4th May
Speedmap submission deadline: 3rd May
Additional registrations (depending on empty slots and groups): 10th May
Maps and final league structure: 11th May
Matches generated: 11th May
Team lock: 11th May 23:59 CEST
First playday: 18th May 18:00 CEST
Playoffs: 15th-22th June

Stay informed!
Rasque
, Wednesday, 09/04/14 09:23


Information:
info write comment not allowed