Archive ESL Europe Europe TrackMania 2 Canyon Premiership Endurance
Canyon Endurance Premiership 1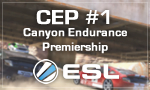 Time for something different! Get two mates and join in for this endurance premiership! You'll be playing in six playdays during the groupstage and the best teams will go on to the playoffs! The maps will of course be multilap maps, on which you should get the most points to get through to the playoffs.

The teams will consist of three players, of whom every playday two players will play. This to ensure that all teams will be able to have two drivers ready to play on every playday.
If you have questions after reading this news, feel free to write in the comments or open a support ticket!
CEP1 - Canyon Endurance Premiership 1
After ET's cancellation of TFET, we've decided to pick it up as ESL premiership. We hope to welcome you all to this premiership, so we can see the true potentional of Canyon on ESL!
During every playday (Sundays) two drivers of your team will be driving on the server against drivers from other teams on a pre-determined server (hosted by ESL). Each week you'll be playing a different map, to keep it new every time. We will be using the following scoring system:
25-21-18-16-14-12-10-9-8-7-6-5-4-3-2-1
(every finished player gets at least 1 point). This means that the best result possible for a team is 46 points per playday.
Example
for with 20 teams
(actual groupsize/advances depending on participants)
:
Four groups of 5 teams: 6 playdays with 1 map, 24 laps (maps are rotating through the groups);
Two semi-finals with each 4 teams: 2 maps with 10 minutes gap, 16 laps each;
Best 2 of each semi-final advance to final;
Final with 4 teams will decide the winners: 1 map with laptime 6 minutes, 5 laps.
Good! We want to sign-up!
You can go through the following to properly sign-up for this premiership:
The first playday will then be on Sunday, 31st of August.
CEP1 - Maprequest
Of course we're going to need maps to play this premiership on. Therefore we like to ask you to help us out: send us your best multilap maps which comply with the following requirements:
Name: "ESL - 'name'"
Use what you want for "name", as long as it isn't a team or playername.
Also, do not use special signs in the name.
Mode: multi-lap (don't use fake finishes)
Length: 0:55 - 1:10 (flying lap)
Validation: 3 laps
Use of ESL Signs
Checkpoints should be placed around every 10 seconds
Add a podium block
Avoid blinding tunnelexits and too dark sections
Blockmixing is allowed, if it does not produce graphical glitches or driving bugs

GPS can be there but not on the start block
Intros and outros are forbidden
Give it a delicate and nice outlook
The scenery is up to you (make sure it doesn't produce lags, lighting problems or graphical bugs!)

The tracks were not used in any competition before
The tracks are only known by yourself
The tracks are not uploaded anywhere
Send the maps, together with a replay, to the following mailaddress:


eu.tm2.maps@staff.eslgaming.com
Please use the following style for your mail subject:
"Maps - CEP - *your nickname*"
, otherwise your mail might be missed.
The deadline for submitting your map(s) is:
Friday, 8th of August
Stay informed!
Your


Admin Team
TheM
, Saturday, 28/06/14 04:27


Information:
info write comment not allowed