Mappackcup #1: ECP1 mappack III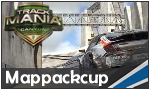 Are you an ECP1-player looking for some competition on the newly released ECP1 mappack III? Or a Canyon-maniac just willing to play a cup? This is your chance! After the success of the Halloween Cup we've decided to do another cup just after the release of the next ECP1 mappack.


Canyon 1on1 Mappackcup #1
Signup now!


Thursday 28 November 2013
Sign up until: 19:30 CET
Start: 20:00 CET
Size: 32 Slots

(can be expanded)


Structure: Single Elimination
[UPDATE] Maps
Because the third mappack of the ECP1 has just been released, we can now tell you which maps to drive in which round:
| | | |
| --- | --- | --- |
| Round | Time | Map(s) |
| RO 16 | 20:00 | Forgetlessness |
| Quarter | 20:30 | Kamehameha |
| Semi | 21:00 | Empulse |
| Finals | 21:30 | Forgetlessness, Kamehameha, decider: Empulse |
Check-In-System
In this Cup we use the Check-In system to prove that players who join also participate in the cup. And we can allow people in the last minute to join, if not enough players confirm their registration!
Phase 1 - Reservation (Green)
Just like you're used to. Sign up if you're interested in playing.
Phase 2 - Confirmation (Yellow)
This takes place
30 minutes before the cup starts
. Everybody with a reserved slot from Phase 1 is now able to confirm parcitipation in the cup. Beware: you only have
10 minutes
for this.
Phase 3 - Signup (Red)
Didn't get a slot in Phase 1? Now all the non-confirmed slots from Phase 2 are ready to be taken by the first ones who sign in.
Please Join #esl.tm on IRC to easy find your opponents. Otherwise post server details in the match comments.
Good Luck and have fun!
Stay informed!
Your


Admin Team
TheM
, Wednesday, 13/11/13 17:29


Information:
info write comment not allowed