Archive ESL Europe Europe TrackMania 2 Canyon Country Championship
CCC'14 - Playday 1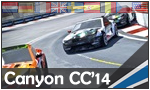 The first playday for the Country Championship is coming up this Sunday! This first playday contains (as will the others) three matches, which we will display here along with some streaminglinks.
CCC'14: Playday 1 - Matches
It will be interesting to see who is going to win this match. Expectations might be high for


Nordic
, who have quite some skilled players. But we surely shouldn't underestimate

United Kingdom
, who hopefully will be able to pull of a good match, this first time round. You can check it on the stream by

toffe
in

English on Twitch:
www.twitch.tv/tovvie
!
With

Germany
as big favourite, it's probably going to be a difficult first match for

Benelux
. How much resistance will they offer the Germans, or might they even be able to win the match anyway? You can check it out (probably on Monday), because the match will be streamed by

toffe
in

English on Twitch:
www.twitch.tv/tovvie
!

France
is not less of a favourite as
Germany
, so we're going to see what


Americas
is going to put against them. Will they be able to gather some points in this difficult match?
Because we have seven teams in this championship, one team will have a free playday during the groupstage, this first time it is

Belgium
.
Interested in streaming?
Are you interested in streaming matches of this championship? Please let us know, so we can add you to the weekly "Playday-news", like this one. You can mail us with the following information:
Streamlink
Your ESL profilelink
Which matches you're going to stream
Language of your stream
You can do this at once at the start of the championship (so now), or every week for the upcoming playday (latest on
Thursday
!) via:
them@staff.esl.eu
.
Stay informed!
TheM
, Saturday, 29/03/14 09:35

No comments yet.

Information:
info write comment not allowed