Archive ESL Europe Europe TrackMania 2 Canyon Country Championship
CCC'14 - Teamcaptains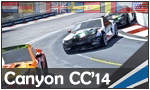 The sign-up period for teamcaptains has been over, so it's time for a teamoverview. In this news you will find a list of teams, their teamcaptain and some more information...!
Team(captain)s
This is an overview of teams with their respective teamcaptain:

Germany
, led by

Minato

France
, led by

7715031

Switzerland
, led by

DaCapo

United Kingdom
, led by

BenziBoy

Netherlands
, led by

Zengo

Belgium
, led by

MGM


Nordic
, led by

EriiK


North America
, led by

Dr.Rock
/

Anxiety
We have heard about a team being set up for

Czech Republic
, but we haven't recieved an captainsapplication. In a reasonable timespan it's still possible to sign-up, by sending in a
support ticket
.
The teams will be put in two groups, during the groupstage of the Country Championship. Depending on in which group your team is, you'll have 3 or 4 opponents.
We would like to see an initial team line-up by
March, 15th
! With that information we will be able to see if all the teams will be able to make it into the championship. It's the teamcaptain who is responsible in creating such line-up. The playerlimit shouldn't be a problem, but we ask you to give everyone a fair chance.
Team creation
Now that the captains are known, they can create the countryteam on ESL. Make sure that your team is called as your country and the name extension is
.TM2C
. Afterwards, please link the team below in the comments.
Conditions are the following ones:
Name
» Country .TM2C
Teamsize
» 6 to 20 players
Teamlogo
» The countryflag has to be used!
Team Conditions
» All players must live in the country they're playing for*
» Not more than 50% from a single ESL team**
* If a player can prove their nationality, (s)he can play from outside of his/her country
** Also valid for the past 6 Months of clan history (even outside ESL). Exceptions can be made for smaller countries
Admin staff reserves the right to accept or to reject a team, if the team does not follow the conditions mentioned above.
Maprequest
We are still looking for good maps to use during this Country Championship! Please send us more, so we can make proper mappacks for this championship. No mapbuilder? - no problem, just ask around if people could create some maps for us!
name: "ESL-'name'"
Use what you want for "name", as long as it isn't a team or playername
no special signs in the name
length: 40-55 seconds
use of ESL Signs
the tracks are not uploaded anywhere
the track should be easily finishable
Placing checkpoints backwards is forbidden!
Blockmixing is allowed, if it does not produce graphical glitches or driving bugs
GPS can be there but not on the start block
intros and outros are forbidden
give it a delicate and nice outlook
the scenery is up to you (make sure it doesn't produce lags, lighting problems or graphical bugs!)
the tracks were not used in any competition before
the tracks are only known by yourself
Send the maps,
together with a replay
, to the following E-Mail address:
eu.tm2.maps@staff.esl.eu
Please use the following style for your mail subject.
"Maps - CCC - *your nickname*", else your E-Mail may be missed.
The deadline for submitting your map(s) is:
Saturday, 8th of March
If you have any questions regarding this tournament, please contact the adminstaff via
support ticket
! We will happily answer your questions in those tickets.
Stay informed!
Your


Admin Team
TheM
, Monday, 24/02/14 13:49


Information:
info write comment not allowed