Archive ESL Europe Europe TrackMania 2 Canyon Country Championship
More info on CCC'14!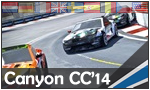 Here is some more information on the upcoming Canyon Country Championship 2014! You will find release/playday-dates, another call of maps, an overview of countries which already made applications, etc.
Championship planning
Currently we have the following planning for this championship. Remember that these dates are not completely definitive, so take them as directive.
Captain request close: February 15th
Maprequest close: March 8th
Rulebook release: around March 15th
First mappack release: March 22th
Teamlock: around March 26th
First playday: Sunday March 30th
Maprequest
We are still looking for Speedtech (40 - 55 seconds) maps, which we can use for this championship! All information about the maprequest can be found in the
maprequest newspost
.
Submitting deadline for the maps: Saturday, 8th of March
Countries
Up until now we've recieved applications for
5
countries (

Germany,

France,

Switzerland,

United Kingdom and

The Netherlands) and applications are expected from
3
other countries (

Czech Republic,
Norway and

Sweden). This brings the total up to
8 countries
for the moment. Of course we're looking for more countries, because more countries is more fun.
In the comments of the previous newspost we've seen tries to get teams together for

United States,

Canada and

Austria. Here is another commentsopportunity to get a team together. Don't hesitate to
contact us
if you need any help.
Teamconditions are the following ones:
Name
» Country .TM2C
Teamsize
» 6 to 20 players
Team Conditions
» All players must live in the country they're playing for*
» Not more than 50% from a single ESL team**
* If a player can prove their nationality, (s)he can play from outside of his/her country
** Also valid for the past 6 Months of clan history (even outside ESL). Exceptions can be made for smaller countries
We try to get as much countries as possible, so if you have trouble getting together enough people don't focus on the 50%-rule too much.
Teamcaptains
When you create a ticket to apply to become a teamcaptain, please use the following template:
Title: Team Captain application *NAME OF COUNTRY*


Your name
Your age
Some information about yourself
What are your qualifications for the job of the team manager?
Why, of all people, should you be the one becoming team manager? Why do you think you are the right person for this job?
A list of players who are already ready to play for your country


Requirements for Team Captains

At least 16 years old

Clean ESL history

No flamer, no penalty points for offense(s)
If you have any questions regarding this tournament, please contact the adminstaff via
support ticket
! We will happily answer your questions in those tickets.
Stay informed!
Your


Admin Team
TheM
, Sunday, 26/01/14 10:35


Information:
info write comment not allowed