Archive ESL Europe Europe TrackMania 2 Canyon Country Championship
Canyon Country Championship 2014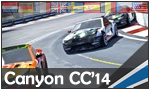 Now the ECP1 has come to a close, we want to announce a tournament where the teams are countries. You will have to wait a bit longer, because we will take a short break after the ECP. First we are looking for teamcaptains who can take it on to lead their country to the victory!
Country Championship
A Country Championship can be seen as a form of Premiership like we had with the ECP1. Only in this case it's not teams against eachother, but countries against eachother. This means that players from (probably completely) different teams come together to play with their fellow countrymen to become the best country on Canyon!
To give everyone some space "championship-wise", we think it would be best to have a break between ECP1 and CCC'14. Therefore we've planned this event for
Spring/Summer 2014
(expected start: end of March, or something close to that). Of course, we won't leave you without any cups during that time,
more information about the Winter Cup Series here
.
Requirements and Conditions
There are some special rules and conditions, as well as restrictions, for you as a team in order to be accepted as an official national team and to be able to participate in the Country Championship.
Conditions are the following ones:
Name
» Country .TM2C
Teamsize
» 6 to 20 players
Team Conditions
» All players must live in the country they're playing for*
» Not more than 50% from a single ESL team**
* If a player can prove their nationality, (s)he can play from outside of his/her country
** Also valid for the past 6 Months of clan history (even outside ESL). Exceptions can be made for smaller countries
Admin staff reserves the right to accept or to reject a team, if the team does not follow the conditions mentioned above.
"Duo-countries"
We wouldn't want to exclude anyone from this championship, but this is of course a possibility when you play for a country where there are not much players. First we want to try to get everyone playing for their own country, because that's what this championship is about! When this in the end isn't possible, we
might consider
allowing
very limited amount
of duo-countries. The allowing of these teams is always on the judgement of the tournament head admin!
We are waiting for Team Captains
As for every Country Championship here in ESL, a person from each participating nation should take the responsibility and be the captain of his/her national team.
Do you want to become the Team Captain of your Country?
You have to contact us by creating a support ticket. Before you do that, please read how your application should look like:
Title: Team Captain application *NAME OF COUNTRY*


Your name
Your age
Some information about yourself
What are your qualifications for the job of the team manager?
Why, of all people, should you be the one becoming team manager? Why do you think you are the right person for this job?
A list of players who are already ready to play for your country


Requirements for Team Captains

At least 16 years old

Clean ESL history

No flamer, no penalty points for offense(s)
Please note that all players, including the team captain, have to be residents of the country/region they would like to represent and in addition they have to have valid citizenship which the ESL reserves to approve by requesting personal ID card copies at any time, if needed in as much as fiddle might be in prospect.
Prizes
The three winning teams will receive a special ESL award and some Premium prizes for their success:
ESL Premium & Awards
| | |
| --- | --- |
| 1st | 5x3 Months ESL Premium |
| 2nd | 5x2 Months ESL Premium |
| 3rd | 5x1 Months ESL Premium |
If you have any questions regarding this tournament, please contact the adminstaff via
support ticket
! We will happily answer your questions in those tickets.
Stay informed!
Your


Admin Team
TheM
, Wednesday, 08/01/14 17:16


Information:
info write comment not allowed