Archive ESL Europe Europe Team Fortress 2 6on6 League
6on6 League Season 4: Sign-up open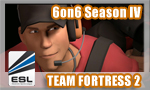 It was quite for some time about the ESL 6on6 League because of the EMS and a summer time break. But the time goes on and we are proud to be back and start into Season 4 by the end of August.
Season IV
Every team that wants to participate in the TF2 6on6 League Season IV needs to
signup
. This also includes teams which took part in the previous season. You are able to signup your team until
Sunday 18th August
. After the Sign-Up is closed there will be one week for votes about some details (mappool, playday, etc). The divisions, groups and details will be announced soon afterwards in order to start the League itself in the last week of August.
This season's prizes will be
3 direct slots for ESL Major Series Season 5
in Team Fortress 2*, as well as premium prizes for the top teams**.
What's new?

Point difference of 5 as winlimit

New Maps (which will be decided by votes)

A small, more userfriendly rule change for Aequitas

Maybe fixed maps (depending on the votes)

FaN limit 0/1 (if the FaN dont get a change)

Other changes
Feedback
If you have problems or suggestion please use our
Forum
or make a
support ticket
.
// Your


Admin Team
*At the moment it is looks like TF2 will be in EMS Season V if there is an EMS but it is not decided yet.
**Depending on the number of participating teams it will be the first 3 (3,2,1 months) or 4 (4,3,2,1 months)
che
, Tuesday, 28/07/09 11:38


Information:
info write comment not allowed