Signup for EMS Season III opened + Demolimit 1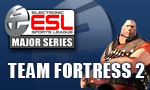 The signup for the first qualifier for the ESL Major Series Season III opened an hour ago. We are looking forward to see three very exciting tournaments in order to choose Europes Top 16 teams! In addition to that we want to present you the result of our latest vote: all 6on6 competitions are changed to demolimit 1.
EMS Season III Qualifier #1
EMS Season III - Qualifier #1

Teamsize:

6 players per team

Cupsize:

16 teams

Mode:

Double Elimination

Matches:

Best of One

Signup Dates: 01.09.08 16:00

to

08.09.08 16:00

(Status:

)


Monday, 08.09.2008 20:00 - WB #1 and LB #1 / WB #2
Thursday, 11.09.2008 20:00 - LB #2 and LB #3 / WB #3
Monday, 14.09.2008 20:00 - LB #4 and LB #5 / WB Final
( Tuesday, 15.09.2008 20:00 - LB Final and Overall Final - not necessarily to be played)


Top 3 teams directly qualify for ESL Major Series!


Demolimit 1
All 6on6 competitions are changed to the following restrictions with immediate effect:
Classlimit 2, Mediclimit 1, Demolimit 1
. This is the result of our latest user voting and replaces the opinion of the biggest part of the European TF2 community.
We really hope that this is the last restriction we need to set because this are always something the developer should make - not the community.
Qualification Overview
Three slots for the EMS mainstage are already filled with the winners of season 2:

Team Dignitas
,

Complexity
and

Excello.TF2
. So there are still two ways left to qualify for season 3. They are described in the following overview:
(click to enlarge)
The leagueshot of the ESL TF2 6on6 League will be at the 25th of September. Meanwhile the three qualification cups take place all over september and early october.
Prizes
Remember, the prize distribution for this season's top 3 teams is a grand total of
€1.500 cash!
1st.
€750
2nd.
€450
3rd.
€300
//Your


Admin Team
Paddel
, Monday, 01/09/08 09:52

No comments yet.

Information:
info write comment not allowed