Archive ESL Europe Europe Team Fortress 2
Goodbye Ladder - Welcome League!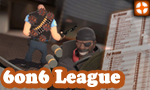 We are happy to present you a new highlight in the ESL: the TF2 6on6 League. We're going to change the ladder system to a new league system starting next week. You'll find all information regarding this change in this news.
About the league
6on6 League

Teamsize:

6 player

Divisions:

Divisions will be recalculated every 3 weeks. (according to ELO Points)

- 1st Division: 8 teams
- 2nd Division: 16 teams
- 3rd Division: 32 teams
- etc.

Matches:

1 fixed match per week, additional challenging is allowed!

Matchsystem:

2 maps (Win/Draw/Loss), maps for fixed matches will be given.

Joinsystem:

You can join/leave at any time.

Start:

Signing up will be activated on Monday the 9th of June 2008.

Default matchday

We've started a poll

to let you decide

when the default matchdate will be. You can choose between

Monday

,

Tuesday

,

Wednesday

and

Thursday

. The poll can be found in your ESL navigation menu below "my bookmarks".

Award ceremony

After three months, the best teams of the first division will be honoured with Premium Accounts and glory:

1st Place:
3 Months of Premium Accounts


2nd Place:
2 Months of Premium Accounts


3rd Place:
1 Months of Premium Accounts


Of course you'll be able to earn ESL Awards in the TF2 6on6 League, for example awards for 10/20/30 wins in a row or 30/60/120 days as #1 in the league.




Closing the 6on6 Ladder

The reason for changing the system was, that the activity in the international 6on6 ladder declines weekly. As leagues are more common in the TF2 scene than ladders, we're hoping to merge the best parts of both systems into the new

TF2 6on6 League

. The change to the new system is simultaneously a

reset of the ELO points

, so no points can be transfered into the new league.

We wish you a lot of fun with the new league. //Your Admin Team

Paddel

, Thursday, 05/06/08 07:49


Information:
info write comment not allowed