ctf_turbine in the mappool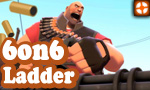 As the map ctf_turbine was used in the ESL Major Series already, it was time to add it to the 6on6 ladder pool also. From now on you'll be able to choose the map for your ladder matches. Please keep in mind, that the usage of the most recent version of a custom map is mandatory. For ctf_turbine this would currently be V3.
85100
, Friday, 28/03/08 07:30

No comments yet.

Information:
info write comment not allowed