Archive ESL Europe Europe Team Fortress 2
1on1 Scout Whiskas Cup #2 - Win up to $1000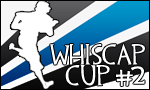 After the success of the first Whiskas Cup

Catman
has decided to dust off the cobwebs from his wallet and host another 1v1 Scout cup, this time the winner will take home up to
$1000
for first place!
All rounds will be played on

Catman's map dm_whiskas.
Prize money available for first place will depend on the number of signups we achieve, if we only reach 500 then $500 will go to the winner. If we reach over 1000 signups then $1000 will be yours to play for. Payment will be via paypal or yandex, any commission must be paid for via the players with regards to the transfer of the prize money.
Signups for the cup will start in about 2 weeks time and run for 3 weeks. We are still looking to add hardware prizes for 2nd, 3rd and a random give away for all those involved so even if you don't reach the final you may still leave with something.
Player's will be required to "check-in" once signups have closed to ensure their participation in the cup, so tell your friends and lets reach the 1000 player's!
Signups will open on the 10/07/11 17:00 CEST and stay open for 3 weeks. This may be extended dependant on the CC and playoffs for Season VII being finished.
Team Fortress 2 1on1 Scout Whiskas Cup #1

Preliminary Date: 31/07/11 19:00 CEST to TBA


Modus: 1on1, Single Elimination, Best of Three WinLimit 11, 1000+ slots


Settings: Download (esl_tf2_1on1.cfg)

Questions? IRC and Support ticket


Rules: Accepted


Map Download: dm_whiskas


Unlocks: Only Default Weapons


Prizes: $ 500 for 1st


Sign up: 10/07/11 17:00 CEST to 31/07/11 19:00 CEST



Restrictions:

entered SteamID TF2 (enter)


Attention

ESL Wire Anti-Cheat is mandatory and has to be used (download)
Matchmedia
Screenshots
- 2 showing the scores (or 3 if decider map)
- 1 showing the SteamIDs (status)
- uploaded within 24h after the match
Demos
- a demo for each map has to be recorded
- have to be kept for at least 14 days
- must be presented to an admin on request
- must be kept until 14 days after conclusion of the protest
Cup Schedule

31/07/2011
19:00 CEST
Round 1
dm_whiskas
03/08/2011
19:00 CEST
Round 2
dm_whiskas
07/08/2011
19:00 CEST
Round 3
dm_whiskas
10/08/2011
19:00 CEST
Round 4
dm_whiskas
14/08/2011
19:00 CEST
Round 5
dm_whiskas
17/08/2011
19:00 CEST
Round 6
dm_whiskas

Finals

21/08/2011
19:00 CEST
Finals
dm_whiskas
22/08/2011
19:00 CEST
3rd place decider
dm_whiskas
The sign up will end on 31/07/2011 19:00 CEST.
Check-In System
In this Cup we'll use the ESL "Check-In System". If you don't know the handling, here's a short explication.
Step 1 - Reservation (green)
Here you can reserve a place in the cup, but you have to confirm your participation later.
Step 2 - Confirmation (yellow)
30 minutes before the cup starts, you have to confirm your participation, if you have done that, you're in the Cup.
Step 3 - Entry (red)
You didn't get a free place in this cup? If there are not enough participants, you can still entering the cup 20 minutes before starting!
You can Check-In
here
.
ESL Wire Anti-Cheat Reminder
The use of our anti-cheat client
ESL Wire Anti-Cheat
is compulsory!
All players must use ESL Wire Anti-Cheat during their matches.
Make sure ESL Wire Anti-Cheat works before you play! You can do so by joining the
Wire testing Team
and launching the Anti-Cheat on the open TF2 test match in ESL Wire. Report any issue to our
support
or request an admin by typing !admin on #esl.tf2 (Quakenet) on IRC. Make sure you read the
stickies
on the Wire Forum as well!
Any matches won without ESL Wire Anti-Cheat or with ESL Wire Anti-Cheat not working correctly will result in a default win for the opponent
. If such thing happen, the match can still be replayed if the opponent agrees.
Your


Staff Europe
#esl.tf2 on Quakenet
or
Web IRC


Information:
info write comment not allowed