Archive ESL Europe Europe Team Fortress 2 1on1 Scout
1on1 Scout Whiskas Cup #1 *UPDATE*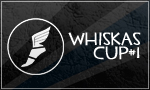 It's been two years since our last 1v1 Scout cup was held at ESL, so we decided to bring it back!

The rules are simple, single elimination with the top players being seeded. All rounds will be played on Catman's map dm_whiskas_rc5 who is also providing the $200 for first place, $70 for the second, and $30 for the third.

Signups are open now and will close on the 28.02.2011 18:45 CET, if we fill all 128 slots we will increase it to 256 so make sure you don't miss out.
*UPDATE*: As all slots have almost been filled, the number of slots have been increased to 512.
Team Fortress 2 1on1 Scout Whiskas Cup #1

Date: 28/02/11 19:00 CET to 21/03/11


Modus: 1on1, Single Elimination, Best of Three WinLimit 11, 512 slots


Settings: Download (esl_tf2_1on1.cfg)

Questions? IRC and Support ticket


Rules: Accepted


Map Download: dm_whiskas_rc5


Unlocks: Only Default Weapons


Prizes: $ 200 for 1st, $ 70 for 2nd, $ 30 for 3rd


Sign up: NOW to 28/02/11 18:45 CET



Restrictions:

entered SteamID TF2 (enter)


Attention

ESL Wire Anti-Cheat is mandatory and has to be used (download)
Matchmedia
Screenshots
- 2 showing the scores (or 3 if decider map)
- 1 showing the SteamIDs and IP (rcon status)
- uploaded within 24h after the match
Demos
- a demo for each map has to be recorded
- have to be kept for at least 14 days
- must be presented to an admin on request
- must be kept until 14 days after conclusion of the protest
Cup Schedule

28.02.2011
19:00 CET
Round 1
dm_whiskas_rc5
03.03.2011
19:00 CET
Round 2
dm_whiskas_rc5
07.03.2011
19:00 CET
Round 3
dm_whiskas_rc5
10.03.2011
19:00 CET
Round 4
dm_whiskas_rc5
14.03.2011
19:00 CET
Round 5
dm_whiskas_rc5
17.03.2011
19:00 CET
Round 6
dm_whiskas_rc5
21.03.2011
19:00 CET
Round 7
dm_whiskas_rc5
24.03.2011
19:00 CET
Round 8
dm_whiskas_rc5

Finals

28.03.2011
19:00 CET
Finals
dm_whiskas_rc5
27.03.2011
19:00 CET
3rd place decider
dm_whiskas_rc5
The sign up will end on 28.02.2011 18:45 CET.
Signup NOW!
ESL Wire Anti-Cheat Reminder
The use of our anti-cheat client
ESL Wire Anti-Cheat
is compulsory!
All players must use ESL Wire Anti-Cheat during their matches.
Make sure ESL Wire Anti-Cheat works before you play! You can do so by joining the
Wire testing Team
and launching the Anti-Cheat on the open TF2 test match in ESL Wire. Report any issue to our
support
or request an admin by typing !admin on #esl.tf2 (Quakenet) on IRC. Make sure you read the
stickies
on the Wire Forum as well!
Any matches won without ESL Wire Anti-Cheat or with ESL Wire Anti-Cheat not working correctly will result in a default win for the opponent
. If such thing happen, the match can still be replayed if the opponent agrees.
Your


Staff Europe
#esl.tf2 on Quakenet
or
Web IRC
Zurike
, Friday, 11/02/11 12:04


Information:
info write comment not allowed