6on6 League Season VI: Signup now! *UPDATE 2*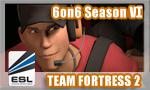 We are pleased to announce that signups for Season VI of ESL TF2 League will open on Friday the 20th of August at 21:00 CET, Teams will have 2 weeks to apply for the league with week 1 starting on the the 20th of September! We expect to have the divisional placements up 1 week prior to the first week so you will have plenty of time to schedule your first matches.

You can signup your team for the upcoming 6on6 League Season VI at the following link.
*UPDATE*
Valve will give in-game medals to all participants, be sure to not miss the signups! For more informations,
see here
.
*UPDATE 2*
We have opened a new recruitment forum, if you are a team looking for players, or a player looking for a team, please check out
our new forum section
.
Season VI
Following on from Season V we will once again be running a Premiership Division for the top 6 teams competing in the ESL TF2 League. The Premier Division + Division 1 will also be using a different unlock ruleset as opposed to the other division's. We hope that by separating the top teams from the lower ones with more relaxed rules we can satisfy both sides of the unlock debate.
Unlocks
Premiership + Division 1





After discussing the unlock system for Season VI with many teams we decided that the Premiership + Division 1 would play with only the Medic unlocks available. If both teams agree, the other unlocks can be used as well! Both teams have to confirm this via match comment, report or screenshot.
Division 2 and Below





No Force of Nature / No Sandman / No Wrangler





If both teams agree, these unlocks can be used as well! Both teams have to confirm this via match comment, report or screenshot.
Mappool
The map pool for season VI will be familiar to most players with the usual popular 5 cp maps in place, This season however there are some noticeable changes:
cp_gravelpit will now be played as a best of 3 so you will no longer be able to tie the map.
ctf_turbine will also be played as a best of 3, with the winner's of each round being the first team to 5 caps or the highest before the round ends. Each round will now only last 10 minutes. We hope that these new rule changes to turbine will revitalise the map within the competitive community and make for a faster and more enjoyable game.
To be clear with those above rule changes both Gravelpit and Turbine can now only end with the following scores 2:0 1:2 2:1 0:2

cp_badlands


cp_gravelpit


cp_granary


ctf_turbine


cp_obscure


cp_gullywash


cp_freight_final1

Prizes
There will be playoffs at the end of the season between the different divisions of the same level. For example, the top 3 teams of Division 2a and 2b would play in the same playoffs cup. In the same manner, the top 3 premiership and Division 1 teams will play in the same playoffs cup.
The Top3 teams of each playoffs cups will win the following prizes:
1st place will win 6x premium accounts in amount of 2 months.
The 2nd place will earn 1 month.
The 3rd place will earn 1 month.
Nevertheless each 1st place of a division will get a special place in our
Hall of Fame
.
But that's not all: The first four places of the
Premiership Division
will get an exclusive

ESL Major Series Season VIII slot
. These teams will qualify automatically.
Ringer/mercs
You are not allowed to use any kind of ringer/mercs.
The admin team reserves the right to kick out any teams in some extreme cases who violate these rules.
Server Settings
The updated server settings will be released before the league start.
**ATTENTION**
Using
Aequitas
is mandatory. All Aequitas files must be uploaded within 24 hours after the match ended.
We will punish all missing Aequitas files!
If you have any problems with Aequitas, please contact us as soon as possible. We suggest to use
ESL Wire
instead of the standalone version of Aequitas. With ESL Wire you are able to start Aequitas easily and after the game has finished you can upload your file by a one-click-system. Many users also reported having less problems with ESL Wire.
Rules
The rules can be found under
http://www.esl.eu/eu/tf2/6on6/league/season6/rules/
All of the above info is still up for discussion so if you have any questions or advice on any of the changes please contact an admin in
irc #esl.tf2
on quakenet with !admin.
AnAkkk
, Thursday, 19/08/10 14:56


Information:
info write comment not allowed