Archive ESL Europe Europe S.K.I.L.L. – Special Force 2 Euro Series
S.K.I.L.L. gets a 10,000 EUR ESL Euro Series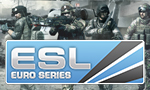 At the beginning of May we announced the increased prize money of the Go4S.K.I.L.L. Series and now we are happy to announce yet another awesome prize money competition for S.K.I.L.L. – Special Force 2! The ESL Euro Series will be the most professional eSports tournament in Europe for S.K.I.L.L. and it will also have a prize pot of 10,000 EUR. Which team will be crowned to be our first Euro Series Champion?
Since its release on September 12th last year S.K.I.L.L. – Special Force 2 has grown strong, but also the eSports scene has grown in the past months. The arguably best team in Europe right now is

team eaaazy
, because they already won 7 out of 13 Go4S.K.I.L.L. cups. Even though they did not win any Monthly Final yet, they are one of the main contenders for this new title.
But there are also teams like

LastMinuteTeam
(former Planetkey Dynamics),

old.cplay
,

myRevenge e.V.
,

myXMG.eSports
or

EURONICS Gaming SF2
who can definitely beat them and they will all try their best to be the S.K.I.L.L. Euro Series Summer 2014 Champion.
What is the ESL Euro Series?
ESL Euro Series tournament consists of three stages - qualification, groupstage and, of course, playoffs. We will host a series of qualifier cups in the upcoming weeks where the top teams will earn their place for the groupstage.
Everyone is welcome to try to qualify, even more than once. That being said, the qualifications will start in
June with four qualifiers
, where we will gather the best teams to compete in the groupstage. The groups will be divided into four groups of four and the best two teams of each group will advance to the playoffs, where a Double Elimination tournament will determine the first S.K.I.L.L. Euro Series champion.
Short overview

June: Qualification

July: Groupstage

August/September: Playoffs
You can already sign up for the Qualifier #1, which is happening at the beginning of June.
Prize Money
| | |
| --- | --- |
| | Prize money distribution ESL Euro Series Summer 2014 |
S.K.I.L.L.

1st
5,000 EUR
2nd
3,000 EUR
3rd
2,000 EUR



More details about qualification and the tournament schedule will be published in the upcoming days so keep an eye on S.K.I.L.L. – Special Force 2 game page as well as our social media.
S.K.I.L.L. – Special Force 2 is powered by


Information:
info write comment not allowed