Archive ESL Europe Europe ShootMania Storm
Autumn Series Cup #6 for Elite - November 16th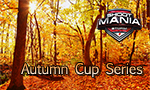 It's time for the sixth Cup of the Autumn Series. It's again time for the Elite gamemode, which gives the best excitement for team matches.
With this announcement, we give you the next Autumn Series Cup!
Autumn Series Cup #6

Date:
Begin, 16.11.2014
Start: 18:00 CET
Max Teams: 64

Modus:
3on3 Elite
Single Elimination

Choosing Map:

Starting Side:
Teams choose their side on the first round, on the map chosen by their opponents.
If a third map is played, the team on the right will choose side.

Requirements:
Registered Maniaplanet login ID (add here).
Registered team tag (optional)
Problems and questions
During the cup the best way to contact an admin is through IRC. You can join #esl.sm @ Quakenet and query an admin to help you. We urge players to contact us as soon as possible when a problem arises.
Check-In System
This cup uses the ESL Check-In system, below is a brief introduction of how this works.
Step 1 - Registration (Green)
Here you can sign-up for the cup, but you will have to confirm your spot later.


Step 2 - Confirmation (Yellow)
30 minutes before the cup starts you will have to confirm your spot. After doing so you are secured a spot in the tournament.
Step 3 - Entering (Red)
Still free spots left? 20 minutes before the cup starts sign up's open again and you can join the cup even if you didn't sign up for it on beforehand.
Current Ranking
Your

Admin Team


Information:
info write comment not allowed