Elite Autumn League incoming!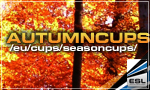 It's almost October and Shootmania couldn't miss the autumn season. So we have an Autumn League coming for Elite 3on3.
The Autumn League will have three phases. The first is
the qualifier
, the second is
the groupstage
and the last is
the playoffs
.
Phase 1: The Qualifier

Date: Friday 12/10 20.00 CEST & Sunday 14/10 20.00 CEST


Mode: 3on3 Bo3 Double Elimination, 64 slots max


Links: Settings, Global Rules


Questions? IRC and Support ticket


Restrictions: Registered Maniaplanet login ID, Team Logo


Signup:
28.09.12 00:00 - 11/10/12 23:59

The top 8 seeded teams that will signup for the qualifier will be invited in the groupstage without having to participate in the qualifier. That means that the top 24 teams of the qualifier cup will proceed to the groupstage.
Phase 2: The Groupstage
In the groupstage the 32 teams that qualified will fill up 8 groups of 4 teams each. The system will be round robin so every team will play all their opponents in the same group once. The matches will be weekly and the default date will be Friday 20.00 CEST (changable if both opponents agree). The first 2 teams in each group will proceed in the playoffs. More information about the groupstage will follow.
Phase 3: The Playoffs
The playoffs will be a single elimination bo3 cup with the top 16 of the groupstage participating. The mathces will be also weekly and the default date the same as the groupstage (movable also).
Prizes and Award
ESL Premium Account
1st Place: 3 x 3 Months
2nd Place: 3 x 2 Months
3rd Place: 3 x 1 Month


Winner:

Special Autumn Award
Support & Help
For any question, doubt, perplexity, feedback and advice, please contact the Admin Team. You can do it with a Support Ticket!


Your

Admin Team

No comments yet.

Information:
info write comment not allowed