Go4ShootMania Cup #9 - June 2nd!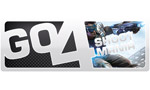 It's time for the nineth Go4ShootMania Cup! You get the chance to win 150€ in cash and a chance to play in the monthly final.
What is Go4
Starting in April, every week a Go4ShootMania Cup will be played. You can earn points to qualify for the monthly final. The winner will receive a prize money of

€150
on top.
The monthly final will take place at the end of each month. The final will consist of eight teams who gathered the most points during the weekly cups. They will compete for a prize money of

€400
.
For further informations about Go4, visit our
Go4 Portal
.
Go4ShootMania Cup #9

Date:
Begin, 02.06.2013
Start: 18:00 CEST
Max Teams: 128

Modus:
3on3 Elite
Beta2 gameplay
Single Elimination
Best of 1 in ro128, ro64, ro32, ro16
Best of 3 in the rest rounds
Round Limit 15, except tie breaker map (1st in Bo1, 3rd in Bo3) where there is no Round Limit
Points to win 9
No female skin

Choosing Map:

Starting Side:
Teams choose their side on the first round, on the map chosen by their opponents.
If a third map is played, the team on the right will choose side.

Requirements:
Registered Maniaplanet login ID for all players (here).
Registered team tag (optional)


Problems and questions
During the cup the best way to contact an admin is through IRC. You can join #esl.sm @ Quakenet and query an admin to help you. We urge players to contact us as soon as possible when a problem arises.
Check-In System
This cup uses the ESL Check-In system, below is a brief introduction of how this works.
Step 1 - Registration (Green)
Here you can sign-up for the cup, but you will have to confirm your spot later.


Step 2 - Confirmation (Yellow)
30 minutes before the cup starts you will have to confirm your spot. After doing so you are secured a spot in the tournament.
Step 3 - Entering (Red)
Still free spots left? 20 minutes before the cup starts sign up's open again and you can join the cup even if you didn't sign up for it on beforehand.
Streaming
This Go4ShootMania Cup is going to be streamed by:
DonathanTV
.

aAa TV
.

StubbyTV
.
Screenshots & result confirmation
Although screenshots are not mandatory, we urge teams to upload screenshots of the results after the end of the match. This will lead to faster confirmation of the results and a more smooth flow of the cup.
We would also kindly request that both teams confirm the result of the match as soon as possible, as it also will save time and reduce waiting for other teams.
Your

Admin Team


Information:
info write comment not allowed