StarCraft: Brood War EMS Incoming!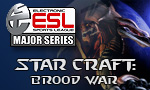 After a long period of drought in the StarCraft: Brood War Section of the ESL we come back with some very hot and nice news for you! We are proud to present you an ESL Major Series for Starcraft Brood War!
The next months will be very exciting. With the upcoming EMS for StarCraft: Brood War we want to offer the community this kind of support they need. For this hot event we have a prize money of
750€
for you!
As a little sweetener the whole cup will be featured by ESL TV with TV shows.
In addition we have to say
Thank you!
to the guys from
ICCup.com
which helps us to arrange the matches on the best server as possible!
Qualification
The qualification for the EMS is very simple. There will be four qualification cups, where the top four gamers get the permission to play in the
highest
league for Starcraft Brood War in the ESL as a reward!
The cups will be played on two days with a variable round schedule up to the grid size!
Cupdates:
EMS Qualification Cup #1: 31th August - 1th September
EMS Qualification Cup #2: 3th September - 4th September
EMS Qualification Cup #3: 7th September - 8th September
EMS Qualification Cup #4: 10th September - 11 September


Groupstage
The qualified 16 players will be seeded randomly into groups of four players each group. In this groups you have to play against each other at once.
The group stage will last from September 15th to November 2nd.
After this the two best players of each group are qualified for the playoffs!
It's very important to keep in mind that the default playdate will be on Monday evening at 21 o'clock!
Playoffs
The remaining eight players will fight against each other in a double elimination cup which starts on 10th of November. The winner of this cup will receive the honour of being the Champion
and
a share of the 750€ prize money!
Price money

1st : 450€


2nd : 200€


3rd : 100€
You will recieve further information in the next days. Just stay tuned and be happy about the upcoming fun you will have with Starcraft Broodwar!
Regards,
//
Your

Starcraft Broodwar Admin Team
Santo
, Monday, 04/08/08 14:26


Information:
info write comment not allowed