Spies vs. Mercs Blacklist – The New Splinter Cell Blacklist  Multiplayer mode at Gamescom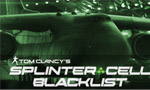 Three years after Conviction Sam Fisher is coming back for the release of the new Splinter Cell Blacklist episode, which will be released on August 22nd. The solo mode will come with a new co-op experience and with the legendary multiplayer mode Spies vs. Mercs.
Spies vs. Mercs at gamescom 2013
For gamescom, Ubisoft and NVidia will organise a big event in order to test the skills of all players over this new Splinter Cell thanks to the new multiplayer mode Spies vs. Mercs!
If you can't attend the Gamescom, you will be able to follow the event and watch all matches live on the Splinter Cell Blacklist channel live on Twitch.tv at
http://www.twitch.tv/splintercellblacklist
You can
register online
with three of your friends for the official tournament before August 20th 23:59. You will be then allowed to participate on the live tournament, in a huge cup organised on the booth. The two best teams of this tournament will face the two other best teams that will have registered themselves on site in the Gamescom.

Sign up online
until August 20th
You can also sign up directly at gamescom, on the Splinter Cell: Blacklist booth in Hall 8 / Booth B061.

Or sign up at gamescom at Booth B061 in Hall 8.
On Thursday and Friday at gamescom (22nd & 23th of August), you will be able to challenge other teams at gamescom and have to try to defeat as many teams in a row as possible. The two best teams that will win the most games in a row (Killstreak) will be directly qualified for the Semi-Finals, where they will be able to meet the two best teams from the official tournament.
You will be able to find all informations on the official Splinter Cell Blacklist website at
www.spiesvsmercs.com
.
What is Spies vs Mercs?
This mode has a lot of fans and you can get your hands on at gamescom to focus on. The Spies vs Mercs Blacklist mode is coming side by side with the Classic mode. In this new mode, Spies and Mercs are respectively shared into three classes or presets each with its own features. This multiplayer mode will be based on 4vs4 rounds, in wich the Spies will have to hack terminals while Mercs will try to avoid it. Each team will have to setup different strategies and trying to use within the best tactics all specific capabilities of the Spies and Mercs in order to win.
Spies vs Mercs Blacklist is a serie of rounds in time limit. With the ability to move vertically and silently, Spies will be a threat for the Mercs when they are using their agility versus Mercs heavily armed but limited in their movements. On their side, Mercs's duty will be to protect terminals, stopping computers hacks, and of course neutralize Spies. More powerfull than the others, ithey do not fear face to face encounters that are usually one-way but are limitated by their movement capabilities.
Splinter Cell: Blacklist  will be available for test during the biggest european video games fair: the Gamescom 2013 in Cologne from 21st to 25th of August. A very nice opportunity in order to test it live, on the booth located in Hall 8.
Thanks to NVIDIA
NVIDIA's gaming engineers have been working closely with Ubisoft Toronto in the development of Splinter Cell Blacklist. This includes cutting edge PC technologies such as TXAA antialiasing, HBAO+ and advanced DX11 tessellation to ensure gamers can experience smooth frame rates and awesome visuals in all of their covert missions.
Good luck to all, meet us at the Splinter Cell Blacklist booth at the Gamescom!
otacon
, Wednesday, 14/08/13 09:25


Information:
info write comment not allowed