Archive ESL Europe Europe StarCraft II Sennheiser Cup
Sennheiser Cup #4 Saturday, Win €100!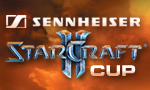 Congratulations to VortiX for winning the third cup! Your next chance to win €100 and try to qualify for offline finals at Gamescom in Germany is this Saturday. If you're not able to play, then sit back and watch the streams.
Next cup
Sennheiser Cup #4:

Sign up now!

(Check-in: 13:40 - 14:00 CET)
Check-in is first come, first serve.
Be there on time to make sure you do not miss out!

Sign up until 16:40 CET
Date: Saturday 26th February
Start: 14:00 CET
Size: 512 players
Structure: Single Elimination




See the cup information page for more details




Gameaccount
The format is Nickname#Character code e.g. DeathStar#123

To find your nickname and character code, login to Battle.net in-game then hover over your avatar (in the top right hand corner) OR click the friends icon and 'Add friend'.

Click here to enter your gameaccount on the ESL
Grand Final at Gamescom 2011 in Cologne, Germany
The grand finalists of the Sennheiser Cup Series will be brought to Cologne, Germany to play live at Gamescom 2011.
Thanks to Sennheiser
The Sennheiser Group is one of the world's leading manufacturers of microphones, headphones and wireless communication systems, employing over 1,800 people worldwide.
Feedback
If you have any feedback - bad or good - about anything we are doing in StarCraft II then please go ahead and post in the feedback topic in the forum.
We are looking for admins!
Would you like to help to run the Cups and Ladders at the ESL SC2 section? You know exactly what the SC2 community needs and you would love to be a dedicated admin? Then Apply now!
Good luck and have fun,
Your


Admin team

No comments yet.

Information:
info write comment not allowed