Belgium and Netherlands Nationals at ESL TV Studio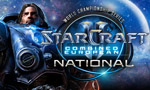 On May 13, the best StarCraft II players from Belgium and the Netherlands will make an appearance in our very own ESL TV studio in Cologne, Germany. Three players from each country will compete against each other for their country's StarCraft II national championship title, as well as for a total of three slots at the Europe Finals.
We will hold two separate tournaments at ESL TV's studio – one to determine the Belgian champion, and the other to determine the Dutch champion. Both national champions, as well as the Dutch runner-up, will advance to the StarCraft II World Championship Series Europe Finals in September.
Tune in on ESL TV on 14:00 CET on May 13th
, when James '
Kaelaris
' Carrol and Salome '
Soe
' Gschwind will present both Nationals together alongside of Konrad '
Templar
' Kleinholz.
Eight Dutch and Belgian players had fought their way through qualifying tournaments to make it to the online Qualifier Finals. The two groups of eight players battled it out on May 6 until only three remained from each country. Those three of each country will travel to ESL TV's studio on May 13th to determine their national champions and compete for 2,000 US-Dollars, which are at stake in both tournaments.
Belgium and Netherlands Nationals - Participants
Belgium and Netherlands Nationals at ESL TV Studio
The top three players from each country, determined by the Qualifier Finals, will compete amongst themselves on May 13 for a total of three slots at the Europe Finals. ESL TV's brand-new studio will provide an ideal location for the two national tournaments, with room for up to 50 guests, a bar, and multiple screens to follow the action.
For a chance to
win 10 x 2 tickets
to visit the event and meet Grubby, ret and more players live at ESL TV's studio in Cologne, just leave a comment under this news and tell us, why do you want to be on-site.
Belgium and Netherlands Nationals

13th of May 2012

ESL TV Studio

Cologne, Germany
ESL TV
will broadcast the entire event. We look forward to hosting some of the best players in Europe at our ESL TV studio as they compete for spots in the Europe Finals!


Information:
info write comment not allowed