Archive ESL Europe Europe StarCraft II
IEM VI Global Challenge Cologne Qualifier #1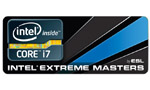 The Intel Extreme Masters is the world's biggest eSports tournament featuring events around the world and $635,000 in prize money this season. This Sunday is the first qualifier for one of the biggest StarCraft 2 events of the year - the Intel Extreme Masters Season VI Global Challenge at gamescom 2011. Find out more about how you can qualify to take part in this news.
Qualification
The
top 2
players will qualify to go to Global Challenge held at gamescom 2011 in Cologne, Germany on August 17-21. The kick-off event for the sixth season of the Intel Extreme Masters will be host to sixteen of the best players from around the world competing for $21,000 in prize money.
Players are responsible for their own travel and accommodation. Please do not sign up unless you are sure you can attend the event! Only players from Europe and Africa are eligible to play in this qualifier.
For more information about the Intel Extreme Masters, and the Global Challenge in Cologne, visit
IntelExtremeMasters.com
.
IEM VI Global Challenge Cologne Qualifier #1

First time playing an ESL SC2 Cup?




After check-in





See the cup information page for more details




Gameaccount
The format is Nickname#Character code e.g. Sims#567

To find your nickname and character code, login to Battle.net in-game then hover over your avatar (in the top right hand corner) OR click the friends icon and 'Add friend'.

Click here to enter your gameaccount on the ESL
Follow us
Support the ESL StarCraft II section and make sure not to miss out on news of more announcements by following us on Facebook and Twitter.
Feedback
If you have any feedback - bad or good - about anything we are doing in StarCraft II then please go ahead and post in the feedback topic in the forum.
We are looking for admins!
Would you like to help to run the Cups and Ladders at the ESL SC2 section? You know exactly what the SC2 community needs and you would love to be a dedicated admin? Then Apply now!
Good luck and have fun,
Your


Admin team


Information:
info write comment not allowed