Archive ESL Europe Europe StarCraft II
Take's Homestory Cup #2: The Replays!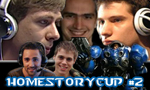 Last Saturday and Sunday some of Europe's best SC2 players met in Krefeld, Germany to play in Take's second Homestory Cup. Download and watch the epic replays! We collected all the replays, which means that you'll now get the chance to have a look at the awesomeness once again. Or maybe you even missed the show this weekend?
That would be too bad! Such a cup doesn't happen every week. Therefore the replays will be discussed, enjoyed, they are a must see for all fans of DemusliM, Naama, Dimaga and all the other high-class participants, check it out!
711308
, Wednesday, 19/01/11 10:10


Information:
info write comment not allowed