ClouD defeats Strelok, MaDFroG takes the lead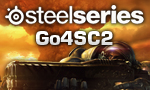 Last night saw the Italian star of the German EPS face and overcome Strelok in the final of Go4SC2 #53, while MaDFroG took third place and the lead in the monthly ranking.
Go4SC2 #53: Final
could not load match with id #20405619
Watch the VoD from GosuGamers
November Monthly Ranking
Although


481657
only took third place last night, that together with his second place from Wednesday's cup give him a total of 120 ranking points this month, putting him on top of the ranking.
Feedback
If you have any feedback - bad or good - about anything we are doing in StarCraft II then please go ahead and post in the feedback topic in the forum.
We are looking for admins!
Would you like to help to run the Cups and Ladders at the ESL SC2 section? You know exactly what the SC2 community needs and you would love to be a dedicated admin? Then Apply now!
Good luck and have fun,
Your


Admin team

No comments yet.

Information:
info write comment not allowed