Archive ESL Europe Europe StarCraft II
ESL TV Pro Invite Cup this Friday: 200€ Prize Money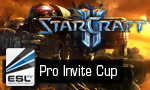 This Friday ESL TV is hosting the first ESL TV Pro Invite Cup in the StarCraft II Beta. But this time not only four players are going to show their skills. A total of 16 players well known from the StarCraft-, WoW- and WC3-scene will play for honor and 200€ plus ESL T-Shirts by adidas. The cup will start live on ESL TV this Friday at 5pm CET and will bring you about 5 hours of thrilling StarCraft II action live to your monitor!
Raffle - Update:
The winners of the 2 weeks ESL TV Premium keys have been informed and are now able to watch the whole show on the ESL TV High Quality streams. We hope you enjoy the show!
Who is the best player in beta?
This is a question you read quite a lot these days. To find the answer ESL TV invited 16 top players who are all competing at the top level in this early state. The whole shoutcast will be done by FiLLy und TaKe, who are joined by Minh '
422835
' Ngyuen and Florian '
1350380
' Larue. As the whole cast will be in German, the moderators will switch to English when it gets to the raffle time with nice prizes such as
5 StarCraft II Beta Keys
!

ESL TV Pro Invite Cup: Friday, 5:00pm CET
A lot of StarCraft players such as


1938623
,

ret
or

ForeverYoung
join the show. Additionally some WarCraft III pros will join us as well as

orly
, who made himself a name in World of Warcraft. The two former ESL Pro Series WarCraft III champions


HasuObs
and


XlorD
will be live in the ESL TV studio to give statements and their impressions on the games.

See all participants in the brackets
The tournament setup:

Structure
: Single Elemination

Mode
: Best of Three

Mapvoting
: 2 Vetos per players, High Seed bans and picks first

Prizepot
: 200€ and 2 ESL adidas T-Shirts for the champion

Mappool
Blistering Sands
Desert Oasis
Scrap Station
Steppes of War
Kulas Ravine
Lost Temple
Metalopolis
Raffle time: See the Pro Invite Cup in High Quality!
To make you see the this superb tournament we would like to give out some ESL TV Premium.
5x ESL TV Premium (2 weeks)
will make you see every move the players do much better. All you have to do is answering this question:
Who won the ESL TV King of the Hill #2?
Closing date is Thursday, 18th March 2010 (
Winning conditions
)
Even more prizes during the show - Win one out of five beta keys!
Additionally to the ESL TV Premium raffle we will give out more prizes during the show. Here the casters will switch to English so you all can participate. Win prizes live T-Shirts, a StarCraft II Poster, more ESL TV Premium Keys and even more prizes. As the top prize for you we got something very special from Blizzard. Win
one out of five beta keys
exclusive and live on ESL TV this Friday! Just tune in to the show, enjoy the matches and answer the questions that will be asked on the show!
Follow us
Enjoy this superb tournament and its matches!
Soodi
, Monday, 15/03/10 11:48