Archive ESL Europe Europe StarCraft II Combined European National 2012
Combined European National & Qualifiers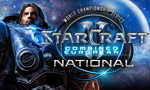 What can you do if you want to compete in Blizzard's StarCraft II World Championship Series, but your nationality means you can't enter one of the main National events? Don't worry, because there'll also be the Combined European National for players from other countries! On June 23 and 24 a total of 16 players will meet at the new ESL TV Studio in Cologne to determine two more participants for the World Championship Series Europe Finals.
How to qualify for the Combined European National
The Combined European National will gather 16 players who have qualified by finishing in the top four of four dedicated cups. We will hold these four cups, as well as a fifth to determine replacements, in May. The 16 qualifying players will have their trips and accommodation for the final event in Germany paid for.
16 Players at Combined European National

Top 4 of Qualifier #1 - May 5th, 2012 at 2pm CEST


Top 4 of Qualifier #2 - May 9th, 2012 at 6pm CEST


Top 4 of Qualifier #3 - May 12th, 2012 at 2pm CEST


Top 4 of Qualifier #4 - May 16th, 2012 at 6pm CEST

The Combined European National is open to players with the following citizenship: Austria, Switzerland, Romania, Czech Republic, Hungary, Bulgaria, Greece, Turkey, Portugal, Croatia, Ireland, Belarus, Slovakia, Lithuania, Serbia, Slovenia, Iceland, Estonia, Luxembourg, Moldova, Cyprus, Malta, Bosnia and Herzegovina, Macedonia, Georgia, Armenia, Monaco, Liechtenstein, Andorra, Albania, Montenegro, San Marino, Vatican City, Kazakhstan, Azerbaijan, Latvia, Israel, South Africa, Faroe Islands.
Combined European National at ESL TV Studio
In June, the best players will meet in our very own ESL TV Studio to compete for two slots at the Europe Finals. ESL TV's brand-new studio provides room for up to 50 guests, a bar and multiple screens to follow the action.
Combined European National

23rd & 24th of June 2012

ESL TV Studio

Cologne, Germany
ESL TV will broadcast the entire event. We are looking forward to hosting some of the best players in Europe at our ESL TV studio as they compete for places in the Europe Finals!
otacon
, Thursday, 03/05/12 12:14


Information:
info write comment not allowed