Archive ESL Europe Europe StarCraft II Go4SC2
Go4SC2 January 2013 Finals on Tuesday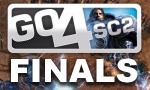 It is time again to decide a new Go4SC2 champion! The Go4SC2 January 2013 finals will be played on Tuesday, with sixteen players fighting for the 500 Euros jackpot.
In addition to the eight players that qualified through the Go4SC2 Sunday & Wednesday cups (
see ranking
) and the top two players of

Premium Qualifier
, the top six players of the
A-Series
are featured too.
Follow us
Support the ESL StarCraft II section and make sure not to miss out on news of more announcements by following us on Facebook and Twitter.
Feedback
If you have any feedback - bad or good - about anything we are doing in StarCraft II then please go ahead and post in the feedback topic in the forum.
We are looking for admins!
Would you like to help to run the Cups and Ladders at the ESL SC2 section? You know exactly what the SC2 community needs and you would love to be a dedicated admin? Then Apply now!
Good luck and have fun,
Your


Admin team
Sims
, Sunday, 10/02/13 17:27

No comments yet.

Information:
info write comment not allowed