Archive ESL Europe Europe StarCraft II Go4SC2
Strelok won Go4SC2 #23!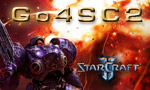 Last night live on ESL TV, Strelok defeated White-Ra live on ESL TV to win the final Go4SC2 cup of the beta!
ESL Go4SC2 #23 - The Final
could not load match with id #19172560
You can find all of

ForeverYoung's replays including the grand final in his replay archive
Re-live the final
The final as broadcast by ESL TV is available in the VoD section (in German only, sorry!).
Click here to watch
Feedback
If you have any feedback - bad or good - about last night's cup then please go ahead and post in the
feedback topic in the forum
.
Rankings:
1. ForeverYoung - 100 Points & 100 €
2. 1938623 - 75 Points
3. DIMAGA - 60 Points
4. GoOdy - 40 Points



The replays can be found in the match details of every match, just click on the vs. in the
tournament brackets
and you will find a download for it.
Congratultions all winners! According to the end of the beta, whis was our last Cup until the Retail version will be release. We hope that you enjoyed the Cups!
The rankings for each month and a long time ranking for seedings can be found on our
ESL Go4SC Standings website
.
Santo
, Monday, 19/07/10 08:09


Information:
info write comment not allowed