Archive ESL Europe Europe StarCraft II Go4SC2
Morrow wins Go4SC2 #22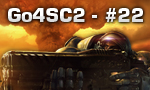 Together with the return of the beta, Go4SC2 is back Sign ups for this Wednesday's cup are now open, don't miss out! As usual ESL-Radio will broadcast the later and most exciting rounds for you to enjoy on their video stream. So, If you want to compete in these cup, sign up immediately. If you're not able to play listen to ESL-Radio and follow what is expected to be another exciting cup!
ESL Go4SC2 #22 - The Final
Update:

3606125
wins the 22th Go4SC2 Cup. For replays just click on the respective match at the
tournament tree
.
could not load match with id #19169400
You can find all of MorroW's replays including the grand final in his replay archive
Feedback
If you have any feedback - bad or good - about last night's cup then please go ahead and post in the
feedback topic in the forum
.
Go4SC2 #22

Begin: Weds, 14.07.10 17:00 CET


Meeting place: #esl.go4sc2 on Quakenet IRC - web chat is available on the cup page!


Structure: 128/256/512 player, Single Elimination


Replays: Replays must be uploaded to the match page (not zipped) immediately after the match. You'll gain penalty point for missing replays starting at the quarter finals!


Coverage: All coverage is allowed! Please send us your streams to:
online-pr@turtle-entertainment.de so we can link them here.


Map pool: Blistering Sands, Desert Oasis, Scrap Station, Steppes of War, Kulas Ravine, Lost Temple, Metalopolis
The top 4 players will earn ranking points
More details and the whole rulebook can be found in the
cup info
.
Gameaccounts
Blizzard have reset and changed the gameaccount system again, which means that you need to re-enter your StarCraft II gameaccount on the ESL.
The new format is
Nickname.Character code
e.g.
TheRogue.123
To find your nickname and character code, login to Battle.net in-game then hover over your avatar (in the top right hand corner) OR click the friends icon and 'Add friend'.
Click here to enter your gameaccount on the ESL
How to sign up?

First you must register on the ESL.


Register your StarCraft II Battle.net (EU) gameaccount


Edit your profile and enter a contact method (IRC, ICQ, MSN, Skype, XFire) - make sure to show it publicly!


Then you can Sign Up
To confirm your place in the cup you must check-in 20 minutes before the cup starts! Read below!
Until 16:40 CET
Sign-up
From now until twenty minutes before the cup starts, up to 100 players can sign up in advance.
16:40 CET
to
16:55 CET
Check-in
To confirm their place in the cup, everyone must check-in between 20 and 5 minutes before the start of the cup.
17:00 CET
Start of cup
The cup starts! Make sure you are in the IRC channel and in-game so that you can find your opponent, and they can find you. Check your open matches to find your match.
While waiting for the cup you can play in the

Beta 1on1 Ladder
.
Coverage
We welcome all coverage in all languages! If you would like to cover the cup, or know someone who could, please
contact us
.


During the cup there will be a live cast in Germen from
ESL-Radio
.


The final rounds will also be brought to you by
ESL TV
.
Your

Admin team
711308
, Wednesday, 14/07/10 06:42


Information:
info write comment not allowed